A Monday in Cowtown
We ate lunch at
la Madeleine's
on Camp Bowie in Fort Worth.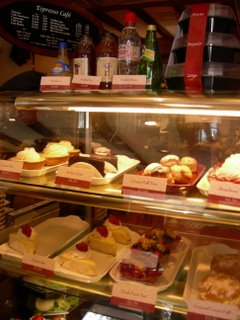 We made other stops as well. We went to Barnes and Nobel, the Scout Shop, Harbor Freight, Michael's, Artful Bead, and ended at Central Market, a huge grocery owned by HEB. It has the most delightful foods available in the Fort Worth area. YUMMMM....
Since our Brookshire Brothers is closing its door at the end of September...two weeks away, we MUST find somewhere, other than WalMart, to get groceries. Mineral Wells NEEDS a good food store with a market!!!
Doubt if that will happen, so we will go to little Metro here, a Mexican grocery, and to Central Market for everything else!
Tomorrow we will go to Graham to give Travis his early birthday gift of Cub Scout uniform, book, etc. He is our youngest grandson. Our oldest, John, is an Eagle. I have 8 Eagles in my family right now, and I hope in a few years Travis will be #9!!